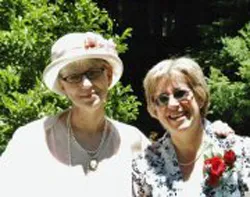 Our Story
Whole Child Pediatrics was founded in 2001 by Dr. Laura Pasternak, a well-known and highly respected pediatrician in the Northern Virginia area. Dr. Pasternak was dedicated to serving the community by focusing on providing exceptional care to children, listening to the concerns of parents and treating the whole child. She received both her undergraduate degree and her Masters in Public Health from the University of Michigan and attended medical school at the Downstate Medical Center in New York.
Dr. Pasternak infused Whole Child with her exceptional clinical skills, good humor and a passion for patient oriented health care. She brought with her a wealth of life experience, including setting up health clinics in poor neighborhoods in South America and intensive study of health care systems in Africa and in Latin America. Dr. Pasternak started Whole Child with a simple dream and a clear vision: to provide first class pediatric care with a personalized, attentive, patient oriented and positive style.
In 2002, Dr. Margriet Bunger became Dr. Pasternak's first colleague at Whole Child. Dr. Pasternak and Dr. Bunger, together with the entire staff, worked tirelessly to establish Whole Child as a home for parents looking for a different kind of pediatric practice. Home visits for all newborns (during the practice's first four years), early morning walk in hours (discontinued since 2020 due to COVID), Saturday morning hours and hiring dedicated professionals willing to go the extra mile for each patient became Whole Child's trademark features. Our personalized style has attracted new patients to Whole Child year after year and the practice now has many patients who were patients and are now parents of our younger patients!
The consistent growth of the practice has allowed Whole Child to add many new services, including evening hours. The success of the practice culminated in 2015, with the grand opening of our brand new expanded office in the same building as our old location. Our new 4,400 square foot facility features large separate well and sick waiting rooms, a dedicated lactation room and a modern, clean, stylish and child friendly décor.
As we celebrate our twenty third year serving Northern Virginia families, Whole Child Pediatrics continues Dr. Pasternak's legacy by maintaining her vision of putting the patient first. We pride ourselves on being a special place, and our warm, personal approach is evident as soon as you enter our office.
---
Our Mission
Our practice philosophy is very simple: we are 100% committed to working to build life-long relationships between our staff and our patients by consistently providing our patients with compassion, excellence and empathetic care. To fulfill this mission, we are committed to:
Improving the lives of the children we serve by providing quality care in a child-centered environment.
Listening to our young patients and their families who we are privileged to serve.
Guiding our patients along a path of optimal health and wellness.
Continually pursuing excellence at all levels through continuing education.
If you are preparing for your child's first visit, you can do a few things to help expedite your appointment. Please provide the following information when you arrive for your visit:
Insurance cards
Complete immunization records
Medical records from your previous pediatrician
Office Hours

| | |
| --- | --- |
| Monday: | 07:30 AM - 08:00 PM |
| Tuesday: | 07:30 AM - 06:30 PM |
| Wednesday: | 07:30 AM - 06:30 PM |
| Thursday: | 07:30 AM - 06:30 PM |
| Friday: | 07:30 AM - 05:00 PM |
| Saturday: | 08:30 AM - 11:30 AM |
| Sunday: | Closed |
Click here for door to door driving directions
Appointments
We have a range of options to make it easy for you to obtain the care you need for your child.
Sick visits for current patients only.
Evening hours to accommodate working parents
Saturday morning sick visit hours
To schedule an appointment during our regular office hours, call our office We always leave time in our schedule for same day sick appointments, but please call as early as you can.
You can request a future appointment by calling our office or by making an appointment request online.
We understand occasional circumstances prevent you from keeping your scheduled appointment. If possible, please notify our office in advance if you are running late or are unable to make your appointment. Our scheduling coordinators will do their best to re-schedule you promptly.